VOLCANIC ACTIVITY IN THE KURILE ISLANDS BY SATELLITE AND VISUAL OBSERVATIONS IN 2018
Beginning since 2003, on the basis of the Laboratory of Volcanology and Volcanic danger IMGG FEB RAS a group SVERT-Sakhalin Volcanic Eruptions Response Team was organised. The main directions of SVERT activity are related to the collection and analysis of all available information on active volcanoes of the Kurile Islands and the creation of daily information reports on this basis [http://www.imgg.ru/ru/svert/reports]. For operational monitoring, SVERT uses satellite data supplied by the center of regional satellite environmental monitoring of IAPU FEB RAS ( Vladivostok), Laboratory of Remote sensing of the Earth (SakhSU, Yuzhno-Sakhalinsk) and information service "Remote monitoring of activity of volcanoes of Kamchatka and the Kuriles" IS VolSatView. Since October 2017, the data from the camera of video observation are used, it was installed in conjunction with the CF FIC CGS RAS for the volcano Ebeko (Paramushir island). In 2018 volcanic activity was recorded only on the Sarychev Peak volcano (Matua island), and Ebeko (island Paramushir).
Activation of Ebeko volcano began in October 2016 and continues to the present time. In 2018, according to video observations, there were more than 800 ash emissions. Maximum frequency and height of explosions (up to 5.5 km asl.) were observed from late August till mid-November. Plumes of volcanic clouds stretched mainly in the North-Eastern, South-Eastern, Eastern and Northern directions, the length of them were 15-25 km. Periodically ashfalls were noted inSevero-Kurilsk.
From September 02 till October 10, 2018, there was a weak explosive eruption of the Sarychev Peak volcano. During this period according to satellite and visual data it was noted intermittent ash plumes to a height of from 2 to 4.5 km asl. (data of TOKYO VAAC, KVERT, and SVERT groups), the ash cloud moved at a distance of from 20 to 255 km mainly in the eastern direction.
Volcanic activity in the Kuril Islands in 2018 was quite low, as it was in the current decade. The total volume of the erupted material did not exceed 0.01 km3.
Satellite monitoring is currently the most reliable and informative method for monitoring of active volcanoes in the Kuril Islands. At the same time, visual data allow to detail the picture and more accurately interpret the results of satellite observations.
Fig. 1.The activity of Ebeko volcano in December 26, 2018 (Webcam in Severo- Kurilsk).
Fig. 2. Ash emission on Sarychev Peak volcano in September 13, 2018 (Photo Tatarenkov S.A.).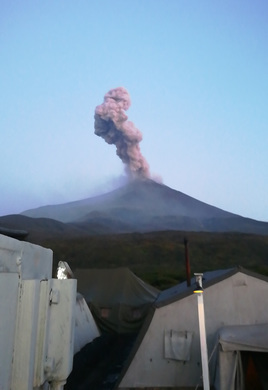 Fig.3 Ash emission on Sarychev Peak volcano September 18, 2018 (Photo Tatarenkov S.A.).